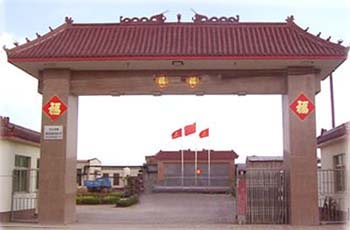 河北铁狮磨浆机械有限公司地处环渤海东方明珠——河北沧州,它毗邻京津交通便利通达,境内名胜荟萃,历史文化悠久。沧州是闻名华夏的武术之乡,所辖吴桥更是誉冠全球的杂技之乡!
  河北铁狮磨浆机械有限公司在中国优秀乡镇企业家、省级劳动模范张树勋董事长的带领下走过了辉煌的发展历程。公司获得了诸多殊荣,产品取得了二十多项实用新型及外观专利,多年来一直带领行业技术创新并形成五大产品系列、一百余种产品型号、年装机几十万台的规模化生产,被誉为全国磨浆机行业排头兵!是中国农业部《大豆磨浆机质量评价技术规范》和《秸秆揉丝机质量评价技术规范》标准起草单位,公司注册商标"铁狮"品牌,自1999年-2015年连续六届荣获河北省著名商标,注册商标"鑫益"品牌自2012年-2015年连续两届荣获河北省著名商标!公司秉承"立德、诚信、创新、奉献"的经营理念,三十多年来我们专注机械制造并形成良好的质量保证和售后服务体系。公司产品行销全国并出口到欧美、东南亚等三十多个国家和地区,深受用户青睐!
  河北铁狮磨浆机械有限公司愿伸出好客之手迎接世界五大洲的高朋贵宾,商海同游共创美好未来!
  Hebei Iron Lion Milling Machinery Co.,Ltd. Is located in Cangzhou city, the Oriental Pearl around Bohai Sea District of China, is adjacent to Beijing and Tianjin. The transportation is very convenient. With a long history and culture and plenty of scenic sites within the territory, Cangzhou city is the famous hometown of Martial Arts. Under the jurisdiction of Cangzhou city, the Wuqiao city is the well-known hometown of acrobatics in the world as well!
  With the guide of the president, Mr Zhang Shuxun, the excellent rural entrepreneur and provincial model worker, the company traversed a glorious course of development.Having made our products more than 20 practical new patents, we have gained a number of awards, leading the industry technological innovation all the way for years, having formed five major series product, more than 100 product models and an annual capacity of hundreds of thousands of sets in mass production. We have known as the national milling machinery industry pacesetter. Our products are genuine first brand in grinding machine industry. We are standard drafter of Technical Standard of Quality Evaluation of Soybean Grinder named by the Ministry of Agriculture of China and Technical Standard of Quality Evaluation of Straw Kneading Machine named by the Ministry of Agriculture of China. We have becoming the only "drafting unit of national and trade standards " and "a famous trademark of two province" in the same trade of China.Our company has always been adhering to the "virtue, sincerity, innovation, contribution" business philosophy. We have focused on mechanical manufacturing for more than 30 years and formed a good quality assurance and after-sales service system.Our products are sold very popularly both in our country and in more than 30 countries and regions such as Europe, America and Southeast Asia.
   We are willing to stretch out our hands with hospitality to meet distinguished guests from five continents to create prosperous future in business together!